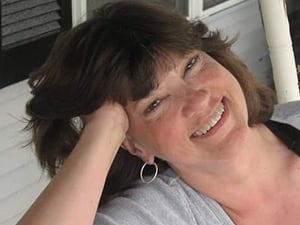 Susan Dice is used to being asked how she manages to go to work every day in a job that can bring her to tears.
"Once they realize what you do, people ask, 'Doesn't it get depressing day in and day out?'" Dice says.
It doesn't, she tells them. There is a great deal of satisfaction that comes from being able to help someone who is grieving, even if it's just helping in a very small way, she says.
That is why, after a decade working for a cemetery company, Dice didn't hesitate when she was offered the opportunity to join Thumbies as our Director of Customer Care – a role in which she still spends much of her time helping people through a difficult time in the process of memorializing someone they have lost.
Luckily for our team, she is extraordinarily good at it, with an intuitive blend of advice, listening and attention to detail that allows our customers to find the perfect keepsake and a small measure of comfort.
"Nine times out of ten, most of what I do when I'm speaking with a customer is to listen. You can learn a lot about someone and their circumstances and feelings just by listening," she says.
When she first moved into the cemetery industry from a job in new home construction, Dice imagined it would be a temporary position, until the housing market recovered.
A Good Listener Makes a Great Customer Care Director
Instead, she ended up staying for 10 years. "I found that I really loved it," Dice said.
A few promotions later, she found herself traveling around the country and training other cemetery administrators. When the position at Thumbies came along, Dice was ready for a change, but liked the idea of continuing to help people through their bereavement.
"I started here a year ago in February and really love it because it allows me to use a lot of the compassion and the skills I learned in assisting people who are suffering a loss," she said.
She could not have come at a better time. The past year brought so much additional hardship to the mourning process, as pandemic-driven social distancing requirements fractured the process of gathering at wakes, funerals and gravesides.
"People don't have the services and the goodbyes they used to have," Dice said. "People are struggling to find something to hang on to and memorialize their loved one."
From mothers, brothers, sisters, husbands and wives to people mourning the loss of a pet, our customers share their stories with Dice and she helps them turn their memories into keepsakes. And cries, sometimes. She can't help it. But no matter how sad or touching the stories, Dice says she is careful to remember that you can't ever really know what someone is going through.
"You always try to put yourself in that person's place, but I can't say I know exactly how you're feeling because I don't. I never say, 'I understand exactly how you feel,'" Dice says. "I'm here to listen."
Turning Memories into Keepsakes for a Small Measure of Comfort
Careful listening enables Dice to zero in on a particular memory that can be used to create a keepsake that captures something meaningful and one-of-a-kind.
Off the job, friends say Dice is as good a storyteller as she is a listener. To relax, she likes board and card games, detective fiction, traveling, and spending time with her adult kids. Two cats, two grand-cats and two grand-dogs are also members of the family for a consummate people-person who also happens to love pets – which makes her equally adept at helping customers who want something to celebrate their attachment to the furry or feathered members of their family.
In either case, she may not know exactly what customers are going through and feeling, but she has a genuine love for helping them get through it.
Give her a call and she will help you turn your memories into a special keepsake you can use to keep them close.