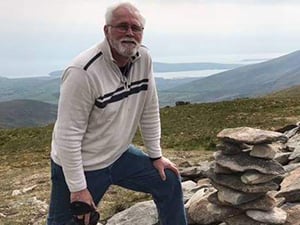 Tom Dougherty's interests have covered a lot of ground over the years.
He was an athlete who loved science. He earned degrees in biology, chemistry and geology but was drawn to artistic challenges that went from drawing to leather work to metal casting. He worked as a welder, a middle school teacher, a custom timberworks home builder, a global photographer and a jewelry maker – among other creative and entrepreneurial undertakings.
From teaching to coaching to woodworking to jewelry manufacturing, Dougherty has never been content to pick just one thing from the wide menu of endeavors that spark his passions.
His path to ownership of Thumbies® was unconventional, but it also put him in a place where his uncommon mix of expertise was a good fit.
When he decided to buy the company in 2015, Dougherty was running a jewelry business he had started four decades earlier and where he'd been making Thumbies and Buddies™ jewelry for the Meadow Hill company, which launched the Thumbies line of memorial keepsakes in the mid 1990s.
Science Beneath the Art Creates a Unique Proprietary Process
Dougherty came into the business knowing he had the art, science and metal working background to turn these charming little keepsakes into a more sustainable business. When he began working with Meadow Hill, he said, the company was making about 25 pieces a week, using a wax casting method for the fingerprints that didn't always hold up well.
"I wanted to make multiples," Dougherty recalled. "I built, in the basement of the jewelry store, a little manufacturing facility that grew to over 3,600 square feet. We were starting to hone our skills that way. We developed a process to make an ink print, transferred over to a more 3D model," he said.
Further innovations included the use of early 3D printing technology and methods borrowed from the aerospace industry.
"What has allowed us to get to this point is our use of science," Dougherty said. "We capture the print in a unique way and we cast in a way we were always told could not be done," he said.
Memorial Keepsakes Rooted in a Lifetime of Innovation and Expertise
The result is truly one-of-a-kind memorial keepsakes with prints recreated with such painstaking detail that wearers often take comfort in running their own fingers over the print ridges. It's jewelry that combines artistry, science and an incalculable measure of solace for those who have lost someone.
At 71, Dougherty spends less time creating custom jewelry. But he hasn't even paused in his role as the visionary for both the jewelry studio, recently rebranded as Studio D Jewelers, and Thumbies, where his sons Bret and Ches are part of a business that has grown from a one-man operation to more than 40 people, all of whom have benefitted from Dougherty's teaching and passion.
"You get eliminated from some of the processes because you've taught them well enough," he said. "They've all become specialists in their own right, and luckily I have time to continue to explore and learn as well."
Dougherty still loves crafting original pieces of jewelry for longtime customers, in between perfecting his recipes and techniques for smoking meat and the ongoing woodworking project that is a timber-frame post and beam house he built and shares with his wife April. A collection of his photography, including landscapes, portraits and architecture from around the world, hangs in a gallery at the new Studio D location on the Woodstock Square. And there's always a new project to be started – like the coming launch of a new Woodstock restaurant offering savory "comfort food" for takeout. Did we forget to mention that Dougherty has also worked as a chef? It can be hard to keep up with everything on Tom's plate…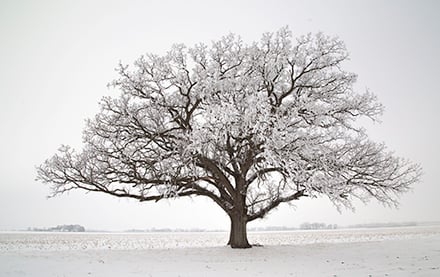 A photograph from Dougherty's gallery.
We consider ourselves very lucky to have him as the founder of our team. He's a big part of the reason we are so committed to creating one-of-a-kind projects that combine artistic beauty with genuine human connection.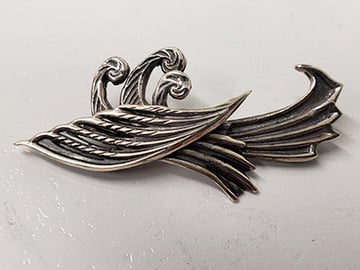 A silver pin that Dougherty designed.
To learn more about keepsakes that celebrate the lives of the most interesting people – or pets! – in your life, give us a call or click on the link below.