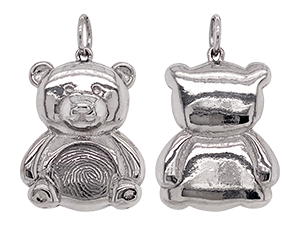 Celebrating the lives of loved ones is the purpose of Thumbies memorial jewelry and keepsakes and we're always exploring new lines of creative memorial jewelry and keepsakes that have widespread appeal.
Our latest additions include a line of heartwarming, personalized pendants – called Thumbuddies® – featuring six different animal characters, and USB rechargeable, customizable arc lighters.
These keepsakes are designed in the spirit of life celebrated, not mourned. Made to last, these pendants and lighters serve as a reminder of your loved ones, celebrating their lives through a memento as unique as the people who lived them.
Thumbuddies Pendants Provide Comfort and Companionship

Our line of Thumbuddies pendants provide comfort in the shape of a bear, a kangaroo, a mouse, a monkey, a turtle and a dragon – engraved with the print of your loved one's hand or finger.
These original, hand-sculpted designs are cast in bronze and plated with rhodium for a high-quality, durable finish. Each pendant is fully sculpted with a 360-degree design and includes a stainless-steel chain.
The unique shape of each pendant is a sentimental memorial token to celebrate the life of a loved one. The pendants are expressive and detailed, serving as both a heartwarming memorial and a comforting reminder of the one you loved.
Light a Candle for Your Loved One with a Personalized Arc Lighter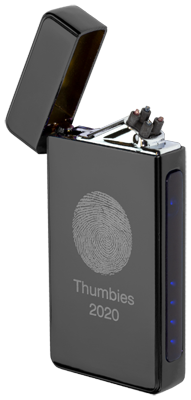 Carry the torch on with our personalized USB arc lighters engraved with a beloved pet's nose or paw print, or your loved one's fingerprint.
This electric alternative to a butane gas lighter is USB rechargeable and uses an electric current instead of an open flame as the ignition source. With a touch trigger, there's no need to flick or spin to ignite this lighter, making it an easier alternative to traditional torches.
Enclosed in an anodized aluminum case with a highly polished finish in ultra-rich black or brilliant blue, the arc lighter has a flip top opening and a sleek, modern design. When opened, the sides light up, displaying the charge meter level, as well as the ignition switch.
Not only is this arc lighter sleek, it's also environmentally friendly, replacing the need for disposable gas lighters. Elegant in design and easy to use, this lighter lasts for dozens of uses – roughly the time it takes to light one cigarette – before needing recharging.
A Memorial Keepsake Unique to You

The possibilities for personalization are endless, and with our latest expansion of Thumbuddies and Arc Lighters, loved ones have yet another option for honoring the lives of those lost in a way that celebrates life rather than mourning. These comforting new products are available now at thumbies.com.