Due to high demand, customers can now choose to have their Thumbuddies keepsake made in the shape of an adorable cat or dog.
These exclusive pendants have a Thumbies original design and use our signature engraving method to create a heartwarming keepsake of a loved one.
Thumbuddies are designed and sculpted by our finest artisans. The pendants are cast in bronze, plated in rhodium, and hand-polished before being sent to their new owners. Each Thumbuddie also comes with a stainless-steel cable chain, so they are ready to wear as soon as they arrive.
The dog and cat join the six existing Thumbuddies – the teddy bear, kangaroo, mouse, monkey, turtle, and dragon – to give eight total options to choose from.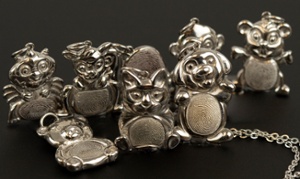 Thumbuddies pendants are available for $49.00 and make great gifts for loved ones. Now through July 30th, buy any three Thumbuddies pendants and get the fourth one free!
To take a closer look at all of our Thumbuddies designs, visit thumbies.com/thumbuddies.
About Thumbies
Established in 1998, Thumbies is the original fingerprint keepsake provider.
With products celebrating people and pets (Buddies Pet Keepsakes®) as well as Phoenix Collection® cremation keepsakes, Thumbies remains the industry leader in quality and selection.
Employing a process that combines art and cutting-edge technology, each fully cast keepsake is handcrafted and individually finished in the U.S. heartland by skilled artisans working with the highest-quality raw materials.
Thumbies offers a large number of exclusive designs and proprietary materials no other keepsake provider can match. The unique ability to take personalization to the next level allows Thumbies to create 100% custom, made-to-order designs.
Media Contact
Jennifer Myers, Director of Marketing & Communications
(877) 848-6243
jmyers@doughertyenterprises.com