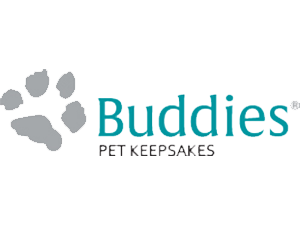 Partnership offers opportunity for pet lovers to capture a paw or nose print honoring their furry family member, with limited-time savings
Woodstock, IL – December 14, 2020: Thumbies® Inc., creator of one-of-a-kind jewelry and keepsakes worn or carried to honor a loved one, is pleased to announce a new affiliation with FYI Pets. This partnership expands the availability of Buddies keepsake jewelry celebrating pets of all types, to pet owners nationwide, with a limited-time savings when an order is started on the FYI Pets website.
Pets are family and Buddies keepsakes perfectly capture the unique paw or nose print of your best buddy. Some keepsake offerings even combine both pet and human prints, a tangible way to celebrate the entirety of your family.
Your imagination becomes our inspiration. Pet owners can enhance a standard design, adapt an existing item, or design a custom piece; anything you can dream, we can create. Our team of artisans is U.S.-based and combines cutting-edge technology and ancient art to capture the intricate detail of each unique paw and nose print. Each keepsake is individually polished, finished and inspected for quality assurance before it leaves our facility.
All you need to start is your phone's camera app (iPhone or Android) and a picture of your pet's nose or pawprint to upload, it's that simple. Pet owners, visit FYIPets.com to find a code for 10 percent off your order, and more information on ordering your Buddies keepsake to celebrate the love for your pet. Buddies and Thumbies keepsakes are also a very personal and ideal gift for someone special for the holiday season.
About FYIPets
FYI Pets exists to provide one resource for pet lovers to find guidance and expert recommendations for the care of all kinds of companion pets. Information from many sources – veterinarians, researchers, authors, pet experts and more is provided for pet parents who want the best for their companion animals. Our mission is to make it easier for pet parents to find relevant and current information to promote the health and well-being of all their pets.
About Thumbies
Established in 1988, Thumbies is the original keepsake jewelry provider. With products celebrating people and pets (Buddies Pet Keepsakes®) as well as Phoenix Collection® cremation keepsakes, Thumbies remains the industry leader in quality and selection. Employing a process combining art and cutting-edge technology, each fully cast keepsake is hand crafted and individually finished in the U.S. heartland by skilled artisans working with the highest-quality raw materials. Thumbies offers a large number of exclusive designs and proprietary materials no other keepsake provider can match. The unique ability to take personalization to the next level allows Thumbies to create 100% custom, made-to-order designs.