Morris V. Prout is a dog of many collars. He's a family dog, a certified therapy dog, and the Director of Community Engagement for Prout Funeral Home in Verona, New Jersey. At only one year old, this Australian Labradoodle's success is dog years ahead of his fellow canines.
Well, like any successful businessdog, Morris humbly declined to speak on the keys to his success. But luckily, his colleagues Robert J. Prout and Julia R. Prout (Directors of Prout Funeral Home) were very willing to tell us everything that Morris has his paw print on.
Support First
The most important duty that Morris's daily life is to provide emotional support to the people that visit the Prout Funeral Home.
Training since he was just a puppy, Morris has been working his entire life to be a therapy dog and takes the job very seriously. "When he puts the red vest on, he's strictly business," says Robert Prout. The red vest is Morris' work uniform that lets everyone know he is on the job and gets him into his work state of mind.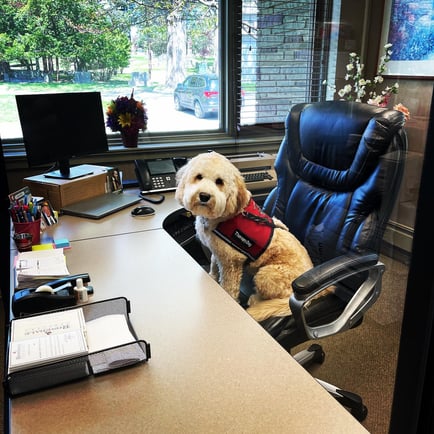 When the vest is on, Morris turns his full focus toward the people at the funeral service. His thoughtfulness is second to none, as he can sense when someone is overwhelmed before most people do. "He knows better than we do when someone needs to cuddle him," remarks Julia Prout. When there is a person who needs comfort, Morris notices it right away and goes to them as a means of emotional support.
His high work ethic and adorable face have led to overwhelmingly positive reviews from the families he's worked with, "we would never have anticipated the positive response we've received for Morris," says Robert. It's clear that Morris is a shining example of what every therapy dog hopes to achieve.
A Fluffy & Familiar Face
But "therapy dog" isn't the only responsibility on Morris' small shoulders (dogs do have shoulders)…He is the Director of Community Engagement too!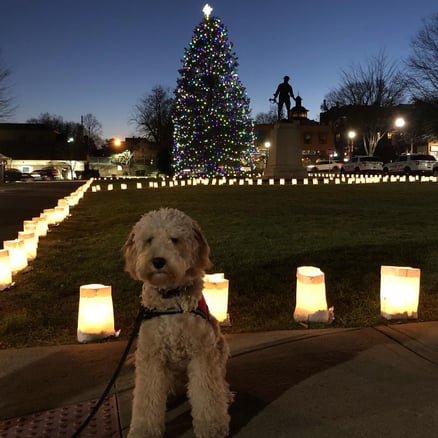 Being involved in the community is something that Morris takes a personal interest in during his off time. He often does the rounds to local businesses, attends meetings at town hall, and makes regular visits to Arden Courts Memory Care Center and St. Joseph Healthcare Center.
Morris first visited Arden Courts as a final step in staff training at Prout Funeral Home. But since then, he has visited the memory care center on a regular basis because of how his presence has impacted the residents, "it's almost like the residents are in a fog, and when they see Morris, they briefly came out of it," says Julia, "they are much more focused and in a happier place in time."
Work Hard, Play Harder
But at the end of the day, when Morris is not giving emotional support to families or being involved in the community, he gets to clock out and enjoy his time with the Prouts as a family.
Like any other worker, Morris enjoys engaging in his hobbies when he is off the clock. His favorite hobby is carrying around his Yellow Ducky wherever he goes, but he also tries to stay active by playing fetch with the rest of his family.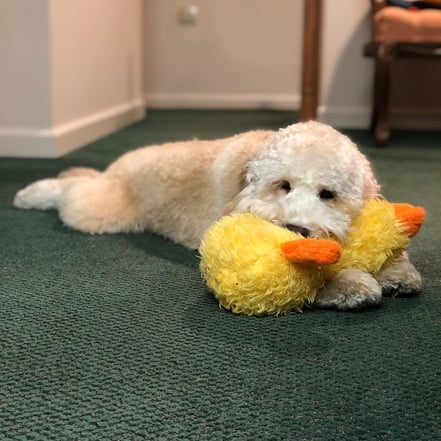 However, even though Morris is a model worker on the clock, there are times when even he wants a few more minutes of free time. Julia describes how one time they were playing with Morris before a funeral and when it was time to get ready for work, "Morris reluctantly put his red vest on, and he sat there and sighed while looking at us in the corner of his eye." Not even the best of us want to go to work every day.
On the surface, a dog with as much success as Morris may appear to be all work and no play. But even though he has a very impressive résumé, he's still just like any other dog with a favorite toy and a little bit of sass. You can follow his adventures @morrisvprout on Instagram and Facebook.
About Morris from the Prout Funeral Home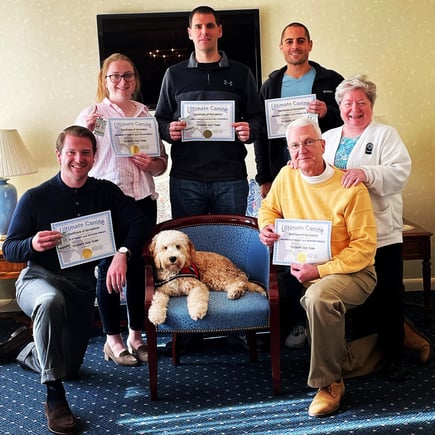 The Prout family is proud to welcome Morris V. Prout, Certified Therapy Dog, to the firm.
He joins the four-generation family of funeral directors known for attention to fine details, environmentally sensitive natural burials, solar-powered building, and community service.
As the Director of Community Engagement, he is already planning events to mark the 100th Anniversary of the Prout Funeral Home in 2024.