The holiday season is one of the most beautiful times of the year. It's a time spent enjoying the days with friends & family, with some celebrating their love by giving gifts to those closest to them.
While the gift-giving season may sometimes feel stressful, we at Thumbies & Buddies Keepsakes have a secret trick to getting something your loved ones will adore...
Make it personal!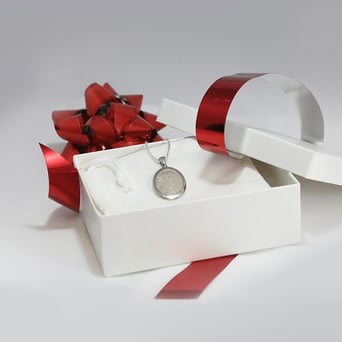 Nothing means more to someone than when you get them something unique and made with them in mind. And luckily, making products personal is what we are all about! Thumbies is the originator of print keepsakes, and we continue to deliver the highest quality keepsakes more than 20 years later.
We carry a vast selection of jewelry and functional accessories personalized with the fingerprint, handprint, footprint, paw print, or noseprint of a customer's choosing. From pendants, rings, and bracelets to money clips, pocket knives, and so much more, there is something that anybody will love at Thumbies & Buddies. And all it takes to get one of your own is to pick out what you want and submit a picture of the print with your order.
There are a few different routes that you can take to find your perfect gifts for the holiday season. Read on to see which one fits your needs best, and take note of the holiday deadlines so your gift arrives on time!
Custom Keepsakes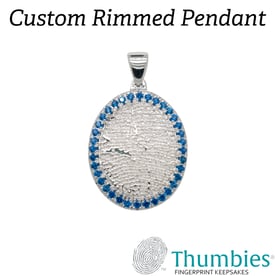 If you want to get something completely one-of-a-kind, then our custom pieces are the way to go! Thumbies is the only print keepsake company that offers fully custom keepsakes. This gives you the freedom to work with our designers and create something just for the person you have in mind. The customized design can be as simple as adding onto a standard design (such as adding a ring of sapphires onto a classic rimmed pendant) or it can be something completely original. The possibilities are endless.
If you choose to get a custom order for the holidays, it must be submitted by December 3rd to ship by December 22nd.
Standard Keepsakes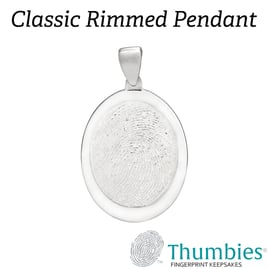 If you still want something personal with a little less effort, you can't go wrong with any of our standard keepsakes. Our standard keepsakes are made in the United States and fully cast by our team of artisans. Fully cast can be a big deal for some customers because it gives the submitted print more definition and texture than an engraving. The difference is akin to a fingerprint pressed into clay versus an ink fingerprint on a piece of paper. Our standard keepsakes come in a variety of materials depending on the piece, which can include: sterling silver, royal bronze, yellow gold, white gold, or rose gold.
If you choose to get a standard product, it must be submitted by December 10th to ship by December 22nd.
FastTouch Keepsakes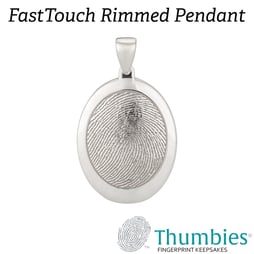 But if you missed the deadlines above or want a print keepsake quickly, then our FastTouch keepsakes will be your savior. FastTouch offers our most popular pendant and lapel pin designs, plus all our functional keepsakes (money clips, pocket knives, keychain tools, arc lighters, etc.) What makes FastTouch different from custom and standard keepsakes is that it uses a different method to apply your submitted print. This gives the print a slightly different look and feel while allowing for a considerably faster time completion time.
If you choose to get a FastTouch product, it must be received by December 21st to ship by December 22nd.
No matter what option you choose, the result will always be a meaningful gift that keeps a person or pet dear to them by their side wherever they go. Visit our home page to see our entire collection of jewelry & functional keepsakes and find the perfect way to show your love this holiday season.